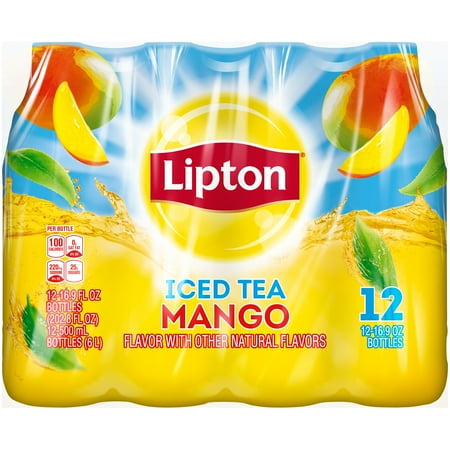 I'm a member of My Magazine Sharing network by Kroger co. I get to try different types of products for free.This time I got to try a 12 bottles pack of Lipton mango Iced tea for free.
These are ready to drink Iced tea in mango flavor.Having grown up in tropical country.I always loved mangoes because they are sold abundantly. During the hot summer months my Mom would have mangoes ready either to be eaten as a fruit or she would prepare drinks and desserts with mango in it.
This beverage immediately reminded me of my childhood years growing up consuming Mangoes in my parents house.
I absolutely loved the beverage because the appearance of this drink is pretty cool.It has that beautiful golden color makes us want to consume it. Then when I opened the bottle I was met with a very pleasant smell of Mango.
When I looked at the nutritional info on the bottle I was a little bit startled to see that each bottle had 25 oz. of sugar that is really high in my opinion.But when I tasted it then I found out that the beverage wasn't overpoweringly sweet and the sweetness was in fact just right.
However the Mango flavor could have been a little stronger but my Husband thought that it was just right and maybe more mango flavor would have made it more of an mango drink than an Iced tea. hate to say that he is right but I guess that this time he is indeed right.